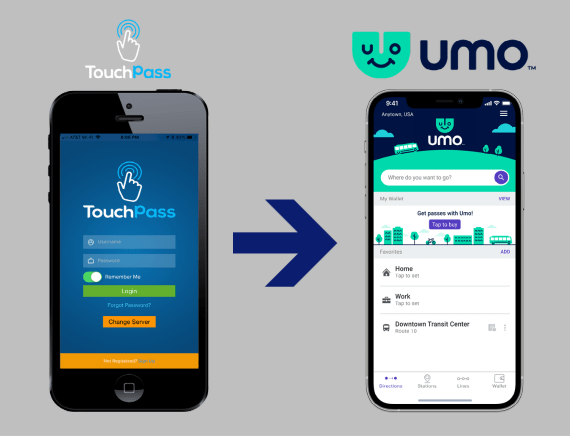 RVTD's mobile phone and TouchPass bus fare is rebranding as Umo this year!
The Umo Mobility App will add exciting new features like real-time bus information, route maps, and trip planning tools along with storing your fare. Umo is free to download now on the Apple App store and Google Play store. RVTD will continue to offer all current fare products and prices.
How do I switch to the Umo App?
Switching over to the Umo Mobility app is easy! Simply download the Umo app and login with your TouchPass username and password. Umo takes care of the details for you, automatically transferring your purchased passes, stored value, and account information seamlessly. The current TouchPass Mobile App will only be available until December 2021.
Why is RVTD changing from TouchPass to Umo?
TouchPass was purchased by a new company in 2020 and is not only changing the name, but adding new and exciting features starting with the mobile app.
What if I don't remember my username and password?
If you don't remember your username or password you can use the 'Forgot Password' link right below the login fields, it will send you an email with instructions to reset your account.
If I don't have an account on Touchpass or Umo, can I create one in Umo?
Yes, if you are new to using TouchPass or Umo Pass you can create or register a new account either by registering your Umo Card at UmoPass.com or by downloading the Umo Mobility App on either the Apple App store or on Google Play.
What if I don't download the Umo app after December 2021?
After December 2021 the TouchPass mobile app will no longer be supported or available on the app stores.
Can I continue to use my TouchPass card?
Yes, you can continue to use your TouchPass card on the bus without any problems. All current fare products and prices are staying the same. Starting in April 2021 RVTD switched over to the Umo Pass card, moving forward all e-cards will be branded under the Umo Pass brand.