Go Vets is an RVTD program to help local Veterans learn about transportation options and connect to the services needed to sustain a happy and healthy life. Our goal is to connect Veterans to employment, education, medical, recreational, and social opportunities and services through an engaging and customized approach.
Download our Enhanced Veterans' Mobility Toolkit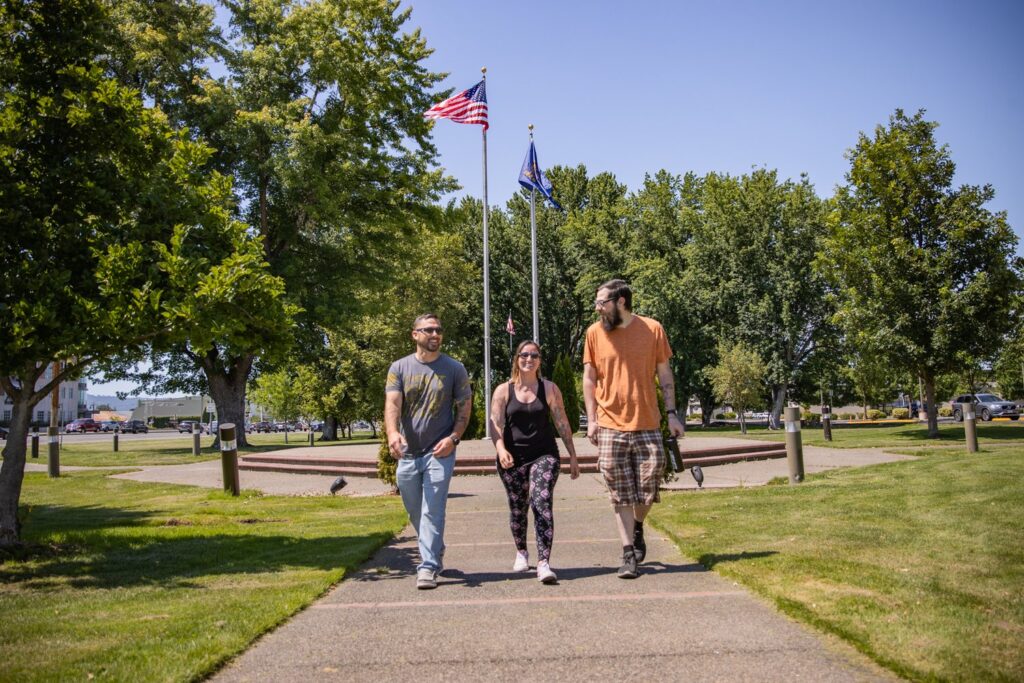 Pedals for Patriots: Veterans Bike Assistance Program
The Pedals for Patriots program helps Veterans that cannot afford a car or any form of transportation gain independence of mobility. This program gives bikes to these Veterans that need a mode of transportation. The bikes that are given away are all donations, most of the bikes are given by local police departments. We have also received many bikes from people who have heard about the program and wanted to help. Our goal with this program is to get Veterans who need a form of transportation, something that costs them no money and will give them that sense of independence we all need in life.
Donate your old bike to the Pedals for Patriots Bike Program! Help support local Veterans.
Do you have a bike collecting dust in your garage? Would you like to help improve the mobility and independence of local Veterans? If so, think about reaching out to us and donating your old bike. Contact Bryan Simpson our Veterans Travel Trainer at (541) 608-2423 or email him at bsimpson@rvtd.org
Bike Donation Request Form:
What is Travel Training?
Travel training is a FREE self-paced process where a Veteran, regardless of ability or age, can learn to ride RVTD's fixed-route system and learn about transportation options like bicycling, walking, and carpooling.​
Go Vets Travel Training
The Rogue Valley Transportation District (RVTD) Travel Training program was developed by Veterans for Veterans. The program is open to Veterans who want to learn to travel safely and independently using public transportation.
Contact Go Vets:
Program Email: govets@rvtd.org
Veterans Travel Trainer
(541) 608-2423
Go Vets Program Results:
An important goal of the Go Vets program was to help Veterans access not only employment and healthcare, but also social and recreational opportunities to improve their quality of life and help with reintegration into our community. The Go Vets program was successful in improving the mobility and independence of Veterans by providing transportation options that weren't there before.
Go Vets participants reported getting to 61% more medical appointments, 74% more work/employment programs, and 59% more social or recreational opportunities. Nearly 90% of Veterans said they felt more connected to the community because of the Go Vets program.
The success of the Go Vets program would not have been possible without the help and support of our local partners like the Rogue Valley Veterans and Community Outreach, ACCESS, Columbia Care, Easter Seals, Housing Authority of Jackson County, Rogue Community College, and the VA Southern Oregon Rehabilitation Center and Clinics.
Download Go Vets Final Report.
Interested in creating your own Veteran's Transportation Outreach Program? Download our: Enhancing Veterans' Mobility Toolkit